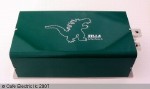 Welcome
---
Home of the Zilla!
Manzanita Micro is doing a great job producing Zilla motor controllers. Please contact them to get your new Zilla.
Come visit my store on CafePress For T-Shirts, Bumper Stickers and more!
---
Here at Cafe Electric our primary focus has been to design and develop the Zilla series of motor controllers. Experience shows that the Zilla is the most powerful and most reliable DC motor controller available for racing, and also excels in any freeway capable electric vehicle.

Google+