"If at first an idea isn't absurd, there's no hope for it."
-Albert Einstein
This blog is for the Stretchla project. The Stretchla is all about Supercharged camping in a battery electric vehicle.
Once you get used to driving an electric vehicle, it's really hard to go back. The noise, vibration and environmental impact of fossil fuels now feels so last century.
I've been driving EV's around town for decades. 95% or more of my trips yet only about 20% of my miles have been driven in my EV. Most of the remaining miles were traversed in my VW camper. I stretched the Vanagon in 1998 for the extra space and the fun of it, I would have loved to make it electric then but I couldn't see a way to make it work. The Stretch has progressed from gasoline power to biodiesel and now I've decided it's time to travel on pure electric power. Recently Tesla announced the Supercharger network, this game changing technology, which is currently only available to Tesla Model S owners, enables never before possible long distance travel in an EV. Since the Model S is a bit small for my camping needs I've bought a damaged one and intend to swap the body of the Stretch on top of it. In honor of the Tesla base I'm changing the name to Stretchla.  This blog is here to share the adventures of the transmogrification and travels in the Stretchla, I hope you enjoy the ride.
-Otmar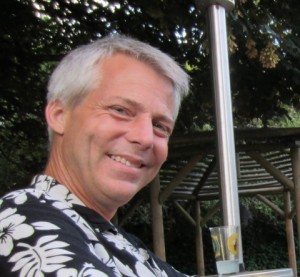 Unless otherwise noted all content Copyright Otmar Ebenhoech 2013 – 2014. This site and project are in no way affiliated with Volkswagen of America, VWAG or Tesla Motors Inc.  Any copyrights mentioned on this site belong in part and in whole to their respective owners.
If you would like to send me an email message, please use this form. If you'd like to share a public comment, you can use the form below the heading "Contribute your thoughts here".